What happens when you hand a DSLR to a 7 year old
I was shooting at a private birthday party, and then when this kid approached me to teach him how to operate the camera. that's when I discovered the 7 year old Photographer.
Never restrict the potential of your kids solely to education.
I don't think it's the wrong thing to do at all. Kids actually have greater learning capacities as compared to any other adults. we should not limit their growth solely to that of academic progress, a little outdoor activities and some music classes to find out their talents like photography!
Gear used
Canon EOS 7D Mark I (Pretty heavy body for a kid to use)
Tokina AT-x 116 Pro Dx II 11-16mm f/2.8 (Pretty heavy for a lens too)
Shutter speed is set at 1/30 without Optical Stabiliser (Pretty impressed by those well-focused photo)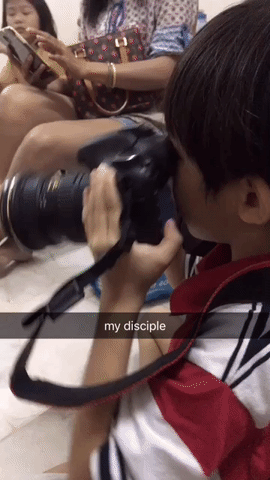 This is one of my favourite setup when I work as a birthday photographer. I had to remove my flash(Was previously attached on the camera) before passing it to the young photographer.
I've changed the lens to the user friendly and award winning Tokina Ultrawide-angle Lens, and also set the zone focus for him. I taught him the ultimate basics on how to operate the camera (Point, focus, and shoot). pretty shocked by how talented this young man actually is. There're so much potential for a boy who hasn't even taken any photos in his life (Because not every seven-year-old owns a smart phone).
Disclaimers
All the photos shown below is taken by this young boy. None of the photos are cropped so that I could preserve the originality of the photos, and I only did a very minor image touchups and colourings for those photos.
I must emphasise this. None of the photos are taken by me, except for the one he's holding the camera.
**In case you didn't know, you can click on the gallery to enlarge the photos. (I doubt anyone will miss it)
You can't blame the little boy's unfocused photo can you? After all,  the camera weighs more than anything he ever carried.
Although the photos are very limited, but dude, it's always about quality not quantity.
But guys. Look at the framing of all the photos, some of them are pretty professional ain't it? You wouldn't expect these photos from a 7 year old. And also, I must emphasise that this is the FIRST TIME that little boy has taken any photos, if you're not impressed, you're probably a person that is reeeeeaaally hard to impress. So, I've left him my name card and told him to contact me 10 years later to join my team.
Meet the young photographer! Okay, this was taken by me, like duh. XD
Maybe after this post, he will be fully booked for photography till next year, who knows?
P/S: Dude, look at the photo he took of me, it's totally INSTA-WORTHY.
P/P/S: Check out the gallery!
Peace.